The current weather
Today: Sunny, but relative cool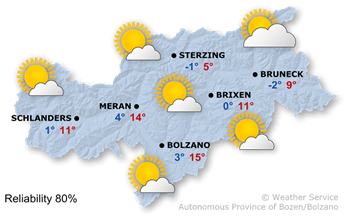 In most of the country it will be sunny. The northerly winds will decrease. Maximum temperatures from 5° in the Wipptal to 15° in the Unterland.
---
Tomorrow: More clouds, few sunny spells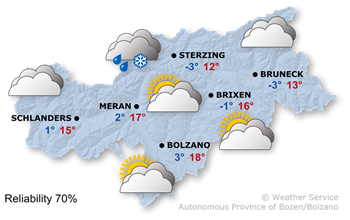 Partly sunny weather with denser clouds. On the alpine crest some precipitations. After a frosty morning maximum temperatures from 12° to 18°.
---
Next days Weather forecasts: Cloudy with some sunny spells, milder
On Thursday cloudy skies with only sunny spells. Some showers can be possible in the evening from west. Variable cloudy weather on Friday with some rain showers. Partly sunny conditions on Saturday. Sunday in the South partly sunny, more clouds in the North and in some valleys Föhn wind.