The current weather
Today: Sun, clouds, isolated rain showers
Sunny with some cumulus clouds during the day. Local showers are possible in the afternoon. Over night more frequent showers in the very North along the border to Austria. Maximum temperatures between 22° and 31°.
---
Tomorrow: Sunny, northerly winds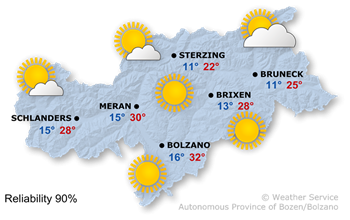 Sunny weather, only some residual clouds in the very North in the morning. Highs from 22° to 32°.
---
Next days Weather forecasts: Summer weather