The current weather
Today: Sun and clouds
Quite sunny with some high clouds. High temperatures between 16° and 21°.
---
Tomorrow: Lots of sunshine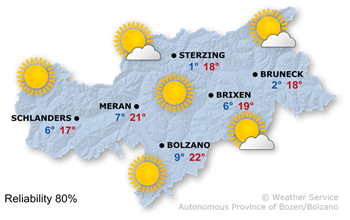 All over the region very sunny, often also clear sky. In the morning local fog is possible, in the afternoon some cirrus clouds can move through. After a fresh morning the temperatures will reach 16° to 22°.
---
Next days Weather forecasts: Sunny autumnal weather