The current weather
Today: Cloudy, some snow in the West
Increasingly cloudy with some snowfall along the border to Austria and in the western parts of the region. Some sunny spells in the South-East. After a frosty morning maximum temperatures from 3° to 6°.
---
Tomorrow: Mostly cloudy with some snow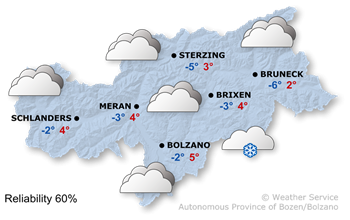 Mostly cloudy with light snowfall, especially in the Dolomites. High temperatures between 2° and 5°.
---
Next days Weather forecasts: Cloudy, snow showers